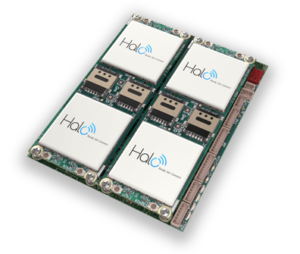 Elsight has confirmed that it has delivered its Halo drone connectivity solution to DroneUp to be incorporated into a fleet of parcel delivery drones. This partnership will provide DroneUp with a robust connectivity solution for command-and-control redundancy certification, critical and secure data transmission, and uninterrupted connectivity. Halo completes the end-to-end link between the drone and the DroneUp field hub and control centre.
Walmart has made a large strategic investment in DroneUp, and the two companies have recently announced their first multi-site commercial drone parcel delivery operation, and has also launched the drone delivery order website "Delivery on the Fly."
DroneUp has also been selected to provide a representative to sit on the Federal Aviation Administration's (FAA) Beyond Visual Line of Sight (BVLOS) Aviation Rule Making Committee (ARC) to participate in the development of beyond line-of-sight drone flights. John Vernon, DroneUp's Chief Technology Officer (CTO), will represent DroneUp on the ARC.
DroneUp's first commercial order with Elsight not only affirms Halo's strong position within the drone parcel delivery arena, but also validates its potential for growth within the fast-developing drone industry.
Yoav Amitai, Elsight CEO, commented: "This order from DroneUp affirms the validity of our design-win strategy within the drone industry. We are delighted that DroneUp has chosen us to leverage our Halo bonded connectivity solution to ensure absolute connection confidence to their drones for commercial deliveries. Such orders are a great indication for Elsight's suite of connectivity solutions, and our ability to be a solution provider wherever and whenever businesses need absolute and uncompromised connection confidence."
Amazon Auto Links: No products found.