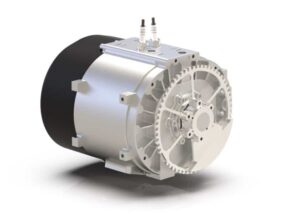 Sky Power has launched a heavy fuel variant of the company's SP-180 SRE single-disc wankel engine for UAVs (unmanned aerial vehicles). The engine features a hybrid electric motor with a compact design and excellent power-to-weight ratio, and is ideal for a wide range of drone applications.
The heavy fuel SP-180 HF SRE is a modified version of the original gasoline engine. This modification includes the SP-180 SRE with all auxiliaries. and the additional of preheating equipment to compensate for the higher flash point of kerosene and to maintain cold start capability. The engine is equipped with Sky Power's kerosene heater control unit, engine/water preheater, and fuel preheater.
The KHU100 kerosene heater control unit controls the complete fuel and engine preheating process before, during and after operation. The WPH100 engine/water preheater is used on the engine's water-cooling circuit. For operation, the heavy fuel SP-180 SRE needs a kerosene/oil mixture with a ratio of 200:1 (Jet A1 : Aspen 2-stroke oil). Engine cooling is provided by water cooling of the housing and oil cooling of the rotor, allowing reliable operation under severe environmental conditions.
The heavy fuel SP-180 HF SRE can be operated as a direct drive, a hybrid system or in an electrical power generation mode. With hybrid boost power, an additional 15KW is optionally available for direct drive, depending on the capacity of the on-board battery. Conventional generators as well as starter generators are available depending on customer application and requirements, with the latter requiring a 48V battery pack with the preheater unit. The capacity and peak current of the battery must be large enough to supply the current required to preheat the engine and start the combustion cycle.
Karsten Schudt, Managing Director of Sky Power GmbH, commented: "Heavy fuel engines have a long history with us, as we have been offering our two-stroke engines in this configuration for a very long time. Now, we are pleased to be able to use our wankel engine for this fuel type, as well for military applications, notable the NATO single fuel policy."