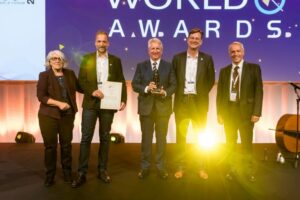 RIEGL has confirmed that its VUX-120 LiDAR scanner for UAVs (unmanned aerial vehicles) has received a Geospatial World Innovation Award, thanks to the sensor's high performance, efficiency, and user-friendliness. The award was presented during the Geospatial World Forum in Amsterdam.
The lightweight and compact sensor uses an innovative scanning pattern for the optimal coverage of complex and vertical targets, such as high-voltage transmission towers or building facades. This scan pattern employs a nadir/forward/backward scanning geometry and a 100° wide field of view for exceptional target coverage in a single pass. The RIEGL VUX-120 is ideal for corridor mapping missions, providing users with excellent high-resolution surveying data while saving time and money.
James Van Rens, Strategic Advisor RIEGL Group & Sr. VP RIEGL USA, who accepted the award on behalf of RIEGL, commented: "The RIEGL VUX-120 is a powerful and versatile solution that exceeds the needs of the geospatial industry for high performance, engineering, and survey grade accuracy LiDAR. The VUX-120's long ranging capability offers a cost-effective solution for both unmanned and manned aircraft integrations alike, providing economies of scale to enable a quicker return on investment. It is a privilege to see the expansion of performance capabilities and usage of RIEGL LiDAR in parallel to the reduction of sensor form."
Amazon Auto Links: No products found.