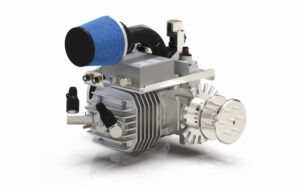 Sky Power has selected Zerosum Technologies as a distributor for the company's UAV (unmanned aerial vehicle) engine products in India. In addition to marketing and distributing Sky Power products, Zerosum Technologies is looking to set up a centre to provide local engine testing facilities locally, as well as to maintain a stock of spare parts in order to quickly meet after-sales requirements.
Sky Power and Zerosum will be providing end-to-end solutions with technology readiness levels (TRLs) of 9 for UAV systems with MTOWs of 25 up to 150 kg in varying configurations. The companies have decades of industry experience consisting of complex international projects, global supply chain management, precision engineering and unrivalled quality control.
Karsten Schudt, Managing Director of Sky Power, commented: "India is a unique and growing market for UAVs due to recent legislative changes. We are looking to understand the local customer requirements and develop solutions specific to India."
Jai Sharma, Head of Marketing at Zerosum, noted: "India requires technology infusion from the best-in-class companies to accelerate the process of being 'Atma-nirbhar' [self-reliant] in the UAV domain. Sky Power GmbH is a world leader in two-stroke and Wankel propulsion systems and future engine development technology, which fits our company's mission to meet the increase in demand for the right products."
Amazon Auto Links: No products found.