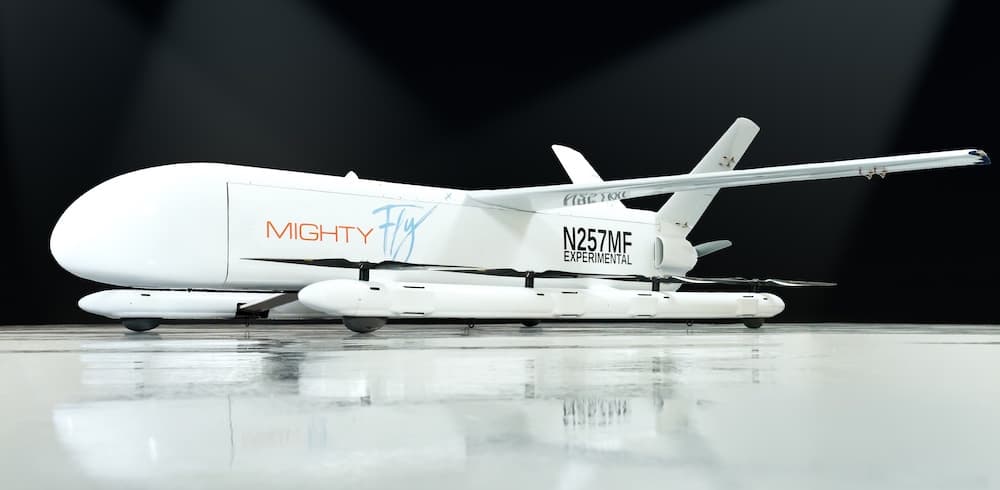 MightyFly has unveiled its second generation autonomous hybrid, electric Vertical Takeoff and Landing (eVTOL) aircraft, the MightyFly Cento, designed to carry out same-day, door-to-door delivery. 
The Cento, previously referred to as the MF-100, has a cargo capacity of 100 lbs (45 kg) and a range of 600 miles (965 km) at max speed of 150 mph (240 km/hr).
With eight electric vertical lift fans, one forward propulsion propeller, and a high wing airframe configuration made primarily of carbon fiber, a fully loaded Cento weighs just 355 pounds (161 kg).
It measures 13.1 ft by 16.7 ft (4 m by 5 m) taking up a total area that is less than two compact cars – meaning the ground transfer stations required onsite can simply be two car spots in an existing parking lot.
The Cento is equipped with a 6 ft by 1 ft by 1 ft (1.8 m by 0.30 m by 0.30 m) cargo internal bay which is loaded and unloaded by a conveyor belt that operates autonomously, so no human handling other than dropoff and pickup is required at the ground stations.
MightyFly is responsible for the operation and maintenance of the aircraft, and will also manage the end-to-end process of its express shipping services, and deliver convenient and seamless services to its customers. Because the Cento is equipped with a hybrid powertrain, it does not require constant recharging in between flights: the ICE engine recharges the aircraft's battery while in the air, enabling it to perform multiple deliveries in a row, with up to 600 miles range.
"The traditional hub-and-spoke distribution model can still serve businesses that have centralized warehousing and shipping systems in place and that have experienced few logistics issues," said Manal Habib, MightyFly CEO and co-founder. "But if there is one lesson we've learned from supply chain bottlenecks and logistics over the past few years, it's that we need flexibility – to be able to adapt to various cargo volumes and expedited timing or urgencies. Medical companies, just-in-time manufacturing, and the 51% of all retailers that now provide same-day delivery need a faster and more affordable way to get their goods and perishables to the final destination."
After undergoing an extensive study of all safety standards and testing results of MightyFly's end-to-end system, inclusive of aircraft hardware, software and its ground infrastructure, the Federal Aviation Administration (FAA) granted the MightyFly Cento a Special Airworthiness Certificate and a Certificate of Authorization (COA) for long-range flights.
With this COA in place, the company will be able to accelerate development of its autonomous aircraft, with a larger airspace (230 sq miles) in which to test the transition from hover to forward flight at a medium and high altitude (up to 5000 feet).
MightyFly began autonomous flight testing of the Cento in December 2022. Meanwhile, it is planning to develop a larger version of the Cento that can carry 500 pounds of cargo.